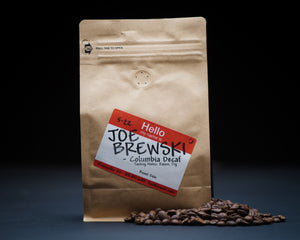 Trust us. This is it.
Decaf Colombia - Mountain Water Process
Regular price
$18.55
$0.00
Unit price
per
Why we love it:
Decaf is a unique process. Before roasting, the bean goes through a series of washes to remove the caffeine from within (over-simplified). Once finished, you have a very different product than you started with. Decaf bean require a different approach to roasting, must be handled gently, and can go rancid in a moment. 
Thus, after months of weekly testing, we believe we've found the sweet spot. We're proud to be serving you this Decaf. It's roast is comparable to a light/medium roast, and yet it carries a rich, velvety texture and taste that reminds us of the classic cup of Joe our parents used to drink. SA more modern roast, we're proud to serve this to you.
______________
 You may taste:
White sugar, milk chocolate, classic Joe. But better.
---